Avobath – LUSH bath bomb duplicate recipe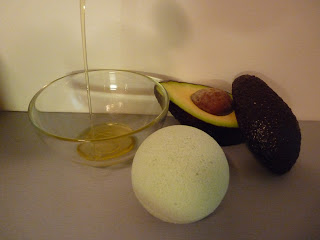 In this post, I show my duplicate recipe of the Avobath – favorite LUSH bath bomb and my method to crack the recipe.
The recipe for LUSH bath bomb was easy to duplicate and I like the result!
I first show my recipe and below – for those that are interested – I explain how I cracked the recipe.
The recipe
For 4 big Avobath-like LUSH bath bombs (7cm diameter):
(1 pound) 480g  sodium bicarbonate (aka baking soda)
(0.5 pound) 240g  citric acid
1/2 teaspoon green mineral oxide
(0.49 oz) 14g  fresh avocado
(0.42 oz) 12g  olive oil
25 drops Essential Oil (EO) Lemongrass
25 drops EO Bergamot
30 drops EO Rosewood
Instructions
1) Mix in a bowl sodium bicarbonate, citric acid and green oxide.
2) Blend the avocado with the olive oil and add to the mix.
3) Stir everything thoroughly and finally add essential oils
4) Mix again and make bombs by filling the molds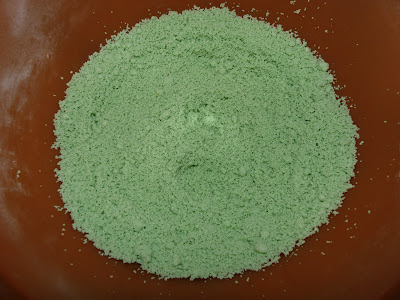 The mix of Avobath ready to be put into molds.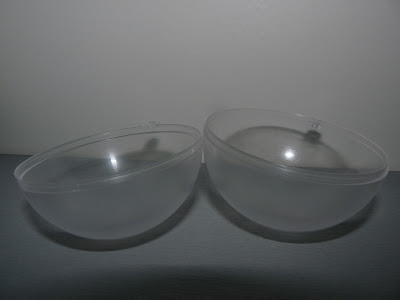 My bath bomb mold, 7cm diameter
TIP:Check the video at 2:15 – a very good technique of how to mold.
4) Unmold and let harden in the owen at 50°C (122°F) for 20-30 minutes


And here is the video of my bomb:

How did I duplicate it?
In order to be able to duplicate a product, we have to know the ingredients.
An ingredient list is very informative as according to the rules of cosmetics labeling, the ingredients must be listed in a decreasing order of their proportion.
Therefore the first ingredient is the most abundant etc…
The LUSH AVOBATH composition is:
Sodium Bicarbonate, Citric Acid, Fresh Organic Avocado, Organic Extra Virgin Olive Oil, Lemongrass Oil, Bergamot Oil, Rosewood Oil, *Citral, *Geraniol, *Farnesol, *Limonene, *Linalool, Perfume, Gardenia Extract, Lustre holly sparkle
I do know how to make a bath bomb – the base is to combine sodium bicarbonate and citric acid in the proportion of 2:1, by using a bit of water and/or oils.
Two first ingredients in the ingredient list are sodium bicarbonate (baking soda) and citric acid – these are the most abundant in the recipe.
Because we need two molecules of baking soda to react with one molecule of citric acid, all bath bombs use ratio 2:1 baking soda to citric acid.
The question is, how much of avocado fruit is added.
To answer this – a video of how AVOBATH is made is quite helpful. I estimated the percentages from the video:

What do you think about it?
Did you try to duplicate any of the LUSH products? Did you succeed?
I will be happy if you share your opinion/experience, do not hesitate to leave a comment!
Didn't find any related posts :(