E-Book review: Soap Making Made Easy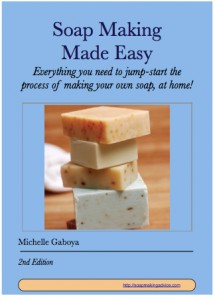 Do you remember one of my last posts on soapmaking E-books? And that I will let you know once I find something interesting?
Now I did, but first, let me tell you a story.
Some time ago, I ordered online an e-book, claimed to be "The complete guide" on hot soapmaking, with many bonuses, only for $47….
…. however, when the pdf arrived, I was very, very badly surprised :-/
The "complete" guide consisted of pages with very large fonts, badly formatted, where I learned absolutely nothing new.
When I looked at the real soapmaking books in my library (mostly around $20), each of them contained twice more information with nice images and formatting.
I was very disappointed and claimed my money back.
Now you can imagine I was not keen to buy any e-book soon and even less to recommend one.
Until… the book of Michelle Gaboya: Soap making Made Easy
From time to time, I get contacted with a demand for cooperation. This book was one of them, and first, I did not feel like advertising, but then I actually read it.
Here is what I think:
The book does not contain tons of pretty images, neither it goes into detail on very specific soapmaking methods, but this is OK.
It is a pretty neat e-book written for beginners, guiding you simply through the basics of the process of soapmaking (cold, hot, liquid) and much to my surprise also through packaging, selling, FDA regulations and even liability!
The two chapters on natural colorants and scenting (with tricks on how to test those before adding them into the soap) show Michelle knows her craft well and really gives everything she knows.
She added also tables of oil and (!) fatty acid characteristics (the latter is unfortunately in many books ommited), as well as an impressive troubleshooting section.
And the cherry on the top is that with this books comes with two additional free books
Soap recipes – 50 recipes, each with instructions, including the so important WHY's (yes, including milk soap, shaving soap and soap bar recipes!)
Soap making: A Quick Guide – a summary of the most important aspects of making soap at home, from Soap making easy
And the price for all of this is $14.99!
… did I mention the 60 days return guarantee?
Yes, I can honestly recommend this book and I do so. I myself have learned some new tricks and recipes!
It seems the offer is time limited – I am not sure for how long, so don't loose time and check the book HERE.
…. and soap well! 🙂
Evik
Didn't find any related posts :(