Cinnamon-orange-vanilla body massage candle – Christmas gift recipe
Melts into a soothing body balm suitable for skin care or as sensual massage oil…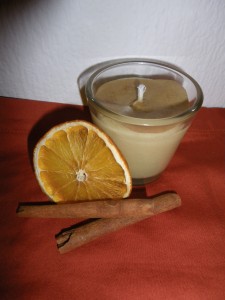 …so much for the advertisement of the recipe 🙂
Body massage candle is different than other candles. Apart of burning, giving thus light and nice scent, the candle itself can be used on its own.
I wanted to make it earlier, but only the upcoming Christmas and a recipe that was posted on my favorite soapmaking forum (thanks Ceebee!) made me pass to action!
And so I did it. It is so simple and the effect is granted – for sure it won't disappoint as a gift for several reasons:
– it is surprising (not everyone knows about massage candles or ever tried one)
– it is practical, scenting, handmade and is a source of fun

Warning: contains cinnamon essential oil that is not recommended for pregnant women.
How to make a body massage candle

Material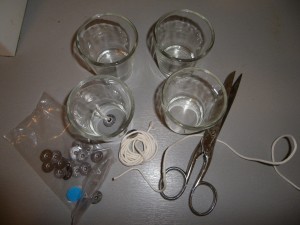 –     3 wicks
–    3 wick sustainer bases (the metallic thing that fixes the wick to the bottom of the glass container)
–    3 glass candle containers á 2.5 oz  (you can recycle any glass container, just make sure it is thick enough so that it does not break when manipulating with the candle…)
Ingredients
–      2 oz (60 g)  Shea butter
–      2 oz (60 g)  Cocoa butter
–      1 oz (30 g)  Avocado butter
–      1 oz (30 g)  Fractionated coconut oil (or any other soft oil of choice that impairs greasiness – sweet almond oil, grape seed oil…)
–      1 oz (30 g)  Beeswax
–      16 drops of Cinnamon essential oil
–      16 drops Vanilla fragrance
–      0.17 oz (5 ml) ~ 1 teaspoon of Orange essential oil
Instructions
0) Put your glass containers in hot water (not boiling), in order to heat them up. Keeping the containers warm will make cooling of the candles more homogenous from inside and outside and will prevent cracks forming. Dry the glasses with a clean towel prior to pouring candles.
1)   Melt all  the ingredients  together on a low heat – do not overheat (>80°C/176°F), otherwise your cocoa and shea butter will  get grainy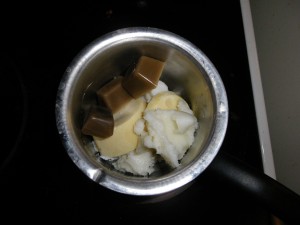 2)    When the temperature drops below 50°C / 122°F, stir in the essential oils
3)   Dry the glass container with a clean towel and fix the wick on the bottom using few drops of  the melted oils/beeswax.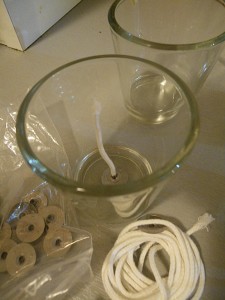 4)    Pour the oils/beeswax slowly into the container, while holding the top of the wick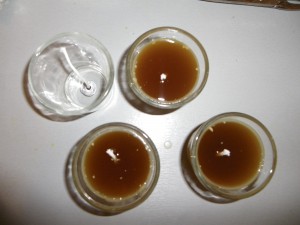 5)    Let cool down – Important! Do not cool in the fridge or your candle will develop cracks.

6)    Pack in a transparent decorative bag with cinnamon bark and a dried orange slice

How to use this body massage candle
Light the candle for a few minutes (e.g. while taking shower), than blow off.  Used after bath as a luxury body butter, or a sensual massage balm.
Do you have a preferred recipe for a body massage candle?
What are you planning to make as a handmade Christmas gift?
I would be happy if you leave me an answer in the comments below this post!
Evik
Didn't find any related posts :(