Cocoa butter massage bar recipe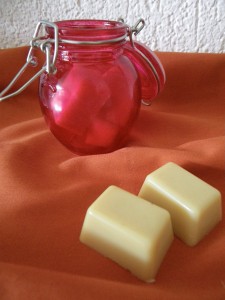 I believed I have seen pretty everything in cosmetics, and yet while browsing one of the books on cosmetics I have (Laurence Dupaquier: La cosméto' au naturel), I found a simple and brilliant thing – a massage bar recipe.
The beauty of a massage bar is that it:
cannot get accidentally spilled
melts on touch
is easy to use!
Massage bar is a kind of a solid body conditioner – click for much more details about how to make these conditioners on the blog of Susan .
So when next time you take your shower in the evening, make some time for conditioning after and then invite your partner for some massage!
But pay attention that he(she) does not eat you (or rather the bars), because they smell sooooo yummy….
The massage bar recipe
| | | | |
| --- | --- | --- | --- |
| | | for 6 small bars | |
| Ingredients |  % | g | oz |
| Cocoa butter | 80% | 48g |  1.6 oz |
| Apricot kernel oil (or another liquid oil of your choice) | 15% | 9g |  0.3 oz |
| Beeswax | 5% | 3g |  0.1 oz |
| Cornstarch | | 1/2 teaspoon |  1/2 teaspoon |
| Geranium essential oil (or another EO of your choice) | | 5 drops |  5 drops |
Please, note – the cornstarch impairs greasiness. Do not add too much, however, or your recipe will be too powdery and bars will have difficulty to melt.
Instructions
1) In a double boiler melt your cocoa butter, oil and beeswax
2) Take off the heat and stir well, then add, still stirring, the cornstarch and stir until the mix is homogeneous 
3) Finally add essential oil and while still liquid, pour in the mold (I have used an ice cube tray)

4) Let cool and harden completely (I put it in the fridge).
5) Store in a jar (the cubes melt fast on touch) and in fridge.
I enjoyed a lot this recipe, as it was the first one of this type I have made. Since, I have made some more and I am especially proud of my duplicate recipe of the LUSH King of the Skin solid bar conditioner.
PS: Did you like this recipe? Leave me a comment!
Didn't find any related posts :(