Easter ideas: How to make egg-shaped soap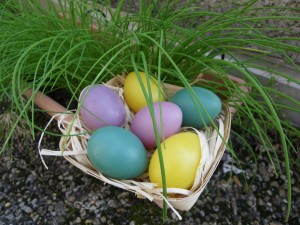 Easter it close and brings a challenge to each soapmaker:  how to make an egg-shaped soap?

Some two years ago, I amused myself making soap eggs from melt and pour soap base I have made from scratch [the link is in Slovak only, sorry].
I used some plastic eggs for the purpose and found it rather complicated. Only later I thought of making egg soaps using egg shells! And there it is – soaping101 published two days ago a tutorial on the exact same method, youpii

I embed the video below.

I will try it this weekend and than post about it, but before, a small question for you: Did you ever make  egg-shaped soap with this or any other method? I would love to read your experience in the comments below!
Soap well!
Posts related to Easter ideas: How to make egg-shaped soap
Didn't find any related posts :(