King of the skin – LUSH solid body conditioner – duplicate recipe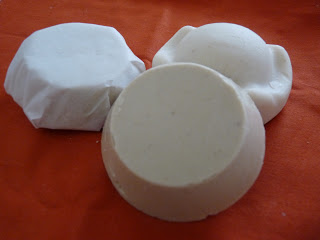 In this post, I show my duplicate recipe of the King of the skin – favorite LUSH solid body conditioner and my method to crack the recipe.
I love solid body conditioners and yes, I do really admire LUSH, although I do not agree with their incredibly high prices.
Being a home-made cosmetics and home-made soap freak, LUSH recipes are one of the things I had to try – they are very well thought and a lot of them is fairly easy to break and admirably simple to make…
My first attempt was duplicating the King of the skin, and I think it went pretty well…
The recipe
| | | |
| --- | --- | --- |
|   | % of final weight | For 100 grams |
| Cocoa butter | 54 | 54g |
| Shea butter | 23 | 23g |
| Fresh bananas | 7 | 14g |
| Oatmilk (infusion) | 4 | 4g |
| Fresh avocado | 2 | 2g |
| Extra virgin coconut oil | 2 | 2g |
| Perfume | 2 | 2g |
| Jojoba oil | 2 | 2g |
| Sweet almond oil | 2 | 2g |
| EO Tangerine | 0.5 | 0.5g |
| EO Lavender | 0.5 | 0.5g |
| EO Sandalwood | 0.5 | 0.5g |
| Rose Absolute | 0.25 | 0.25g |
| Frankincense Resinoid | 0.25 | 0.25g |
I would add some vanilla fragrance in place of Perfume. I used classic coconut oil, the same as I use for soapmaking. 7g of banana is about three thin (1mm) rounds.

Instead of Tangerine EO which I didn't have, I used another sweet citrus fruit EO – red sweet orange EO.

I prepared oatmilk by infusion as follows: In 185g of distilled water I let boil 3 TBSP of oat flakes and let cool down. I filtered the infusion and used 4 grams of it in the recipe.

Instructions:  
1) Mix well bananas, avocado and oatmilk. I tried both blender and hand stirring – blender is better.
2) Melt the butters and coconut oil and add all liquid oils – let it cool down, but not solidify
3) Slowly mix in the banana/avocado/oatmilk puree. Again, blender is better than hand stirring – otherwise you will have in your product very small banana pieces that will get brown.
4) Put the mix in the fridge for 10 minutes and let cool down a bit more. Then again mix well. This is important, otherwise the emulsion will separate as you can see on this picture (this is after I poured the mass in molds, without chilling it in advance)


This is the emulsion separation after I poured it at 25°C in molds. It was still liquid.
After I noticed this, I mixed it again – while mixing, the liquid separated and chilled mass became thick and did not separate anymore.
After the second mixing – homogenous, no more separation!

It is important to let cool in the fridge, mainly if you are stirring by hand, otherwise it will separate again, as you can see on this picture – this is the mass after second mixing, that I let to cool down outside. I broke it into small pieces (which was very easy), so that you can see the bottom of different color, containing pieces of bananas that settled down.



 
And how does it work? Perfectly! It also smells similarly. I am very happy with it, next time I put in also the rose absolue, sandalwood and frankincense.




After abount two months in the fridge, the mold started growing inside  – it appeared as darker spots. Therefore – if you can, either use it up soon, or add 1% preservative to the oatmik.
How did I duplicate it?
In order to duplicate a recipe, you first have to know the ingredients:
Ingredients Cocoa Butter, Shea Butter, Fresh Organic Bananas, Oat Milk, Fresh Organic Avocado, Extra Virgin Coconut Oil, Perfume, Organic Jojoba Oil, Almond Oil, Tangerine Oil, Lavender Oil, Sandalwood Oil, Rose Absolute, Frankincense Resinoid, *Limonene, *Linalool
and than of course their proportions.
The good thing is that ingredients are listed in a decreasing order, therefore we know that cocoa butter is the most abundant, followed by shea butter.
Perfume is usually not used more than 3%, although I believe LUSH uses more than that (if you have ever entered a LUSH store, you know what I am talking about…).
Apart of proportions, there are more questions to ask for example, how can LUSH use fresh fruits without preservatives? Susan in her blog discuss the use of fresh fruit in LUSH products and concludes that either it is not really fresh, or there are unlisted preservatives in their product.
As LUSH recently started to post How is it made videos, we definitely know that they use fresh fruits. So either LUSH is hiding something, or it just miraculously works without preservatives … so I tried it without them too.


This is the video for King of the Skin, it helped me to set up the proportions…



Another question was, how is the oat milk mixed in the butters without an emulsifier? Then I found somewhere that both bananas and avocados are a bit of natural emulsifiers for water in oil emulsions. Because the oat infusion was of much less quantity than the oils, this idea seemed reasonable.
Of course, I had no idea what is their Perfume, but I am very happy with the result – it actually smells verz similar although I did change red orange EO for tangerine EO and did not have rose absolue.



ASIDE ON LUSH MASKS: I also found out that although LUSH in many products claims not to use preservatives, very probably there are preservatives in their perfume part of the recipe.  How did I found that? You know their fresh masks – to be used within two weeks, because of no preservatives added? Well, I kept the rest of mine in the fridge for MONTHS! And nothing happend to it!!!!!

Then I tranferred it to the bathroom and it has been sitting there for weeks now. And guess what – NOTHING HAS CHANGED! No mold, no nothing. It smells still the same…I do not like how they make fools of us, because there is absolutely no way it could survive this long if there were no preservatives….
What do you think? Did you try to make your own King of the skin? Did you try to duplicate the recipe? How did it went? Do not hesitate to leave me a comment!
Have a nice day!
Evik


Didn't find any related posts :(