| Views 13061
The Complete Idiot's Guide to Making Natural Beauty Products – a detailed book review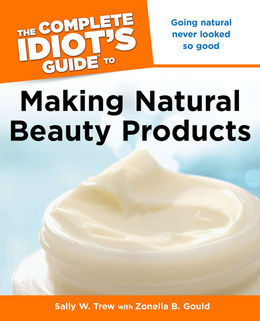 If you want a book that will push you to really start making your own natural beauty and
bath & body products, including mineral makeup, than this is the book you need!
CLICK HERE TO BUY THROUGH AMAZON.
However, it does not go into details on why the recipes contain exactly those ingredients in that combination, but few books do so and you might not want to be disturbed by too much reflexion when you are just starting.
If you are advanced already, you probably know the reasons already and will use the book as the recipe inspiration.
This book is not about any type of soap (except a recipe for jelly soap) and has only few and not very elaborate recipes for dental hygiene or hair care.
It is neither a book that would explain for example basics on lotion making – the recipes are based on EMULSIFYING WAX as the only emulsifier, except for the hair conditioner (where it uses Conditioning emulsifier or BTMS).
There is no troubleshooting section on its own, but there are some tips in each chapter that help to prevent the worse.
It has good chapters about all other bath and body products, including some specialty recipes and a whole chapter dedicated to men 🙂
It is black and white – but is written in an easy to read way.
Definitely a very good value for the price, I do not regret buying it.
Overview
285 pages, divided into 4 parts,  13 chapters and an Appendix cover  a wide range of recipes with detailed step by step instructions, photos (BW) and tips.
See below the short table of contents with number of pages, recipes and a small summary per chapter to get an idea.
Table of contents
Part 1 Natural Beauty Product Basics (44 pages, no recipes)

Chapter 1 Natural Beauty Product Basics (5 pages) – some intro, and in detail about sanitizing

Chapter 2 Beautiful Butters and Oils (15 pages) – list of butters and oils, describing their color, composition of vitamins and/or minerals and/or omega3 or 6 fatty acids, shelf life, therapeutic properties, which homemade body products it is used in, cautions, sometimes alternatives for subsitution
Chapter 3 All About Essential Oils (11 pages) – list of essential oils, describing their scent type, color, therapeutic properties, which homemade products it is used in, cautions
Chapter 4 Helpful Herbs (7 pages) – list of herbs and their extracts, describing vitamin content, therapeutic properties, which products it is used in;  contains a short section on how to make herbal alcohol extracts and oil infusions.
Part 2 Pampering Skin and Body Products (59 pages, 60 recipes)
Chapter 5 Clays and masks (11 pages, 10 recipes) – about facial masks and peels, contains list of clays describing the clay group, which type of skin it is for and their skin active properties
Chapter 6 All things facial (17 pages, 23 recipes) –  creams (3 anti-aging),  cold cream, cleansers, exfoliants, balms and toners

Chapter 7 Body Beautiful (27 pages, 27 recipes) – about butters, lotions, powders, scrubs, milk baths, bath teas, bath oils, fragrance blends, bath bombs and jelly soap for kids
Part 3 Creating Mineral makeup (83 pages, 107 recipes)– this is one of the strongest parts of the book

Chapter 8 Mineral Makeup (15 pages, 15 recipes) – how to make powders, mineral foundations, color grinds, color correctors, concealers
Chapter 9 Blushes and Bronzers (17 pages, 25 recipes) – how to make color grinds for blushes, how to make bronzers
Chapter 10 For the Eyes (25 pages, 36 recipes) – making eye shadov color grinds, making eyeliner, making mascara
Chapter 11 Everything Lips (21 pages, 31 recipes) – making lip balms, lip glosses, lipsticks, color grinds for lipsticks, lipstick pencils
 Part 4 For the Fellas and Beyond (45 pages, 60 recipes)
Chapter 12 For the Guys (23 pages, 25 recipes) – all for him, fragrance blends, shaving cream (too complicated to make), after shave splashes and lotions, after bath powders, moisturizers, exfoliants, skin cleansing masks, foot care products, massage oil
Chapter 13 Final Bits and Pieces (21 pages, 35 recipes)  – this one contains some good bits of information like recipes for nail and cuticle care, some teen girls glitter recipes, solid perfume recipe, pregnant belly balm, hand sanitizer, lotion bars, special skin treatments like rash spray, anti–fungal creams, body balms, hand creams, soothing and scar oils. There are also two recipes for a kind of tooth powders (which I do not like) and three recipes for hair conditioning.
Appendix
Glossary (8 pages)
INCI Labeling Names (22 pages) – a long one!

FDA Labeling rules (2 pages) – mainly internet resources
Resources (4 pages) – where to buy different ingredients
Preservatives (6 pages) – nice chapter on different types of preservatives and when to use them!


What I like about this book 🙂
It has dozens of recipes from different type of product categories and is written in a easy to read style
It discuss in detail the sanitizing products
The ideas and tips I did not see anywhere else (e.g. how to prevent the bath bomb from fizzing while preparing it, what to add in the herbal oil infusion in order to extract more active ingredients…)
Exists also in the Kindle format (I like to have both versions – one for home, another for traveling)
The long list of INCI ingredients!
The book has a good index (not found everywhere)
It has very good mineral makeup part!
The chapter about preservatives
What I miss / do not like in this book 🙁



While the book contains nice description of quite a number of oils/butters, essential oils and herbs organized in an alphabetical order, a comparative table that would facilitate the selection of the ingredients based on their characteristics, composition or usage is missing
No chapter on basics on making emulsions  (although each recipe has detailed instructions)
There are no color photos or images – that would be useful to get an idea about the color grinds!
The toothpastes are two and both baking soda based, which is too abrasive in long term. There are better recipes.
There are only three hair care recipes
What you won't find in the book, but that's all right, because it is not that type of book
A thorough discussion on why natural products are good and non-natural bad 🙂
Scientific references
Soapmaking
No discussion on different types of emulsifiers
Which recipes I tried and what do I think about them
Cold cream (p. 66) – did not like it, it came out a totally horrible waxy mass with separated water phase. As to my experience this recipe just contains too much of beeswax.
Luscious milk bath (p. 94) –

love it!

easy and decadent….
Bath bomb (p. 99 ) –

love it

! there is a good tip on how to keep the bath bomb from fizzing in your bowl…
I used many other recipes as an inspiration, but not having all the ingredients, I tweaked them to what I had at home.
Do you know this book? How do you like it? Are there some recipes you found out that do not work (like the cold cream) or work perfectly? Share your opinion in the comments below, I will be happy read about your experience!
Didn't find any related posts :(