My LUSH FUN duplicate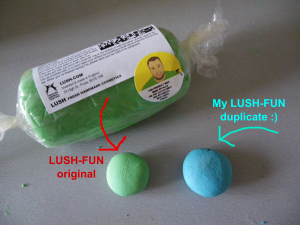 I was asked by one of you if I could make a duplicate of LUSH FUN.
For those who do not know what I am talking about – to cite LUSH – it is a "multi-purpose moldable soap". Simply, it is kind of a play dough that foams. Ideal for children in bath 🙂
Technically it is not soap. As I will show below, the foaming comes from sodium laureth sulfate.
How I duplicated the LUSH FUN recipe
I was very interested by the idea, Lush again has come with something inventive, therefore I went to buy me one – remember, if you wish to duplicate, you always have to try the original…
I selected the green one, as it smelled very citrusy and fresh, which I like.
Next thing to was to check the ingredient list:
INCI: Talc, Cornflour (cornstarch), Glycerine, Sodium Laureth Sulfate, Sodium Laureth Sulfate, Lime Oil, Lemon Oil, *Citral, *Limonene, *Linalool, Perfume, Gardenia Extract, Colour 42090
The most important here is talc, cornstarch, glycerin (these three make he consistency of dough) and sodium laureth sulfate (that is the surfactant added to all industrial shampoos and LUSH FUN foams thanks to it!). The rest are essential oils, perfume and colour.
Those of you who are concerned about natural products just understood that LUSH FUN is really not what one would call a natural product. Handmade does not mean natural… I will try to make more natural and less controversial version of LUSH FUN (no talc, no SLES or SCS) in my next experiment, so far, just the non-natural version….
Once you know the ingredients, you should try to estimate their ratio – we know that INCI lists ingredients in decreasing order and that colourants and fragrances should not consist more than 10% of the recipe (well, normally less than that, but LUSH puts really a lot of perfume in their products…)
My estimate was as follows
Talc – 30%
Cornstarch – 22%
Glycerin – 20%
Sodium Laureth Sulfate – 20%
Perfume + Essential oils – 6%
Colorants – 1%
My other question was – where do I find talc? I had a substitute for sodium laureth sulfate (SLES) – sodium coco sulfate (SCS), a slightly less controversial surfactant than SLES, I had cornstarch and glycerin, colours and essential oils. But talc… I think it can be ordered somewhere…
While searching for talc, I found it is the main ingredient of baby powders. And my baby powder was composed of talc and distarch phosphate (which is basically a modified cornstarch. Therefore I used it instead of first two ingredients of the recipe. So can you use yours.
I started to experiment and finally I added a bit more of baby powder and this is the recipe that I find the closest to original, I just put much less of the fragrance….
LUSH FUN duplicate recipe
46g (62%) Baby powder(or 32% talc + 30% cornstarch)
12g (16%) Sodium coco sulfate (SCS)
14g (19%) Glycerin
0.5g (0.7%) Colorant – I tried two: blue food colouring dissolved in glycerin and green mineral oxide, also dissolved in glycerine
1.5g (2%) Fragrance (I used EO Verbena, but if you use EO lemon or other citrusy EO, that would be sufficient)
Instructions
1) Dissolve SCS in glycerin by a very gentle heating. If you do not dissolve it well, your play dough will be crumbly. It can take up to 15 minutes. Stir occasionally.
2) Once SCS dissolved, stir in the colourant.
3) Then add the baby powder- you will have to work the dough with hands (preferably in gloves so that you do not color yourself)
4) Once dough well done, incorporate the fragrance.
This is comparison of the consistency of my LUSH FUN duplicate and the original
And here I compare how the two foam – LUSH FUN original on the first and my LUSH FUN duplicate on the second video

Do you like it? Did you try something similar? Leave me a comment below!
Didn't find any related posts :(