| Views 54471
Natural cream deodorant that really works – the recipe!
Yesterday, I introduced the Zinc Oxide and its action in 100% natural cream deodorant. And here is the recipe!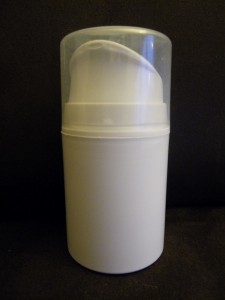 I hope you will enjoy it as much as me and my hubby – we have been using it every day since I made my very first batch, which means already for more than 3 months!
About ingredients
Feel free to tweak the ingredients, but keep in mind:
1) Do not alter the zinc oxide – it is the active ingredient! – and although you can play with the quantity – the percentage I add works for me. I guess more will make it difficult to incorporate in the cream and less will make it probably inefficient.
2) If you change the emulsifier, please change its percentage so that it DOES NOT produce a thick cream. The cream without zinc oxide should be rather thin (but not liquidy), so that the zinc oxide can be incorporated. If the cream is too thick, adding zinc oxide will resolve in too thick and powdery structure, difficult to use comfortably.
3) Water or hydrolat can be substituted for aloe vera JUICE, however aloe vera GEL is too thick to be a substitute – see point 1)
4) For the same reason, the coconut oil should NOT be substituted for a more thick butter like shea butter, murumuru, illipe, cocoa butter….etc. A liquid oil as a substitute is OK.
The recipe
for cca 1.69 oz (50g) of deodorant. The recipe is in ounces (weight)

% of the cream base (weight)
oz
g
ingredient
note
22.5 %
0.38
11
Coconut oil
70.5 %
1.19
34.5
Aloe vera juice
Not the aloe vera gel – otherwise the cream will be too thick and after adding ZnO it will be too thick and powdery to be used comfortably
1 %
0.017
0.5
Optiphen
or other preservative of your choice – used in amount recommended by the producer
6 %
0.1
3
Emulsifier Olivem 1000
or emulsifying wax – but this one I did not try – however – I believe it should work well. Important is not to get very thick cream – see aloe vera juice comment above.
After the cream base is made add
0.32
9
Zinc oxide – ZnO
Try to choose micronized ZnO but not of nano-particle size which are by many studies linked to toxic effects
10 drops
White Tea fragrance
Just a suggestion because I love this fragrance – no need for special antibacterial essential oils
Tip: Try to reuse the containers from the old creams you have at home. Do not forget to wash and disinfect them!
Instructions
0) Sterilize all tools – either 15 minutes in boiling water, or 5 minutes in water with chlorine tablets (those used for the disinfection of baby bottles), or in 70% alcohol. Dry everything with clean towel – no need for alcohol treatment, which evaporates. If you use boiling water – attention to heat, this works only for heatproof containers/tools.
1) Put a mask – zinc oxide is a very fine powder, and you want to prevent breathing it!
2) Heat the aloe vera juice to 70°C (~ 158 °F) – preferably in a double boiler, not direct heat, just to be sure you won't overheat. You can add zinc oxide directly in it and heat together. This is better than adding it at the end of recipe, as it might be tricky to dissolve it in the cream. However, I found that some emulsifiers do not like its presence in the water phase and it can get tricky to mix it in.
Zinc oxide with aloe vera juice – heated in water bath (hidden under the bowl)
Olivem 1000 and coconut oil – slow melt down.
3) Melt your emulsifier (Olivem 1000) and coconut oil together, preferably not more than 70-80°C (158-176°F)
4) When both phases (aloe vera with zinc oxide and olivem+coconut oil) are heated to 70°C (158 °F), slowly pour the oil phase to the water phase, while stirring continuously. When emulsion takes place, transfer the bowl into cold water and stir while cooling. You can use blender – I do not as I make relatively small quantities.
5) Finally add your preservative (Optiphen in my case) and fragrance of choice (White tea in my case)
The final cream deodorant!
6) Transfer the deodorant cream into recipients. I selected a bottle with a pump – it is very practical – you pump only the amount that should be applied (the pump distributes small quantities) and you prevent bacterias getting in and prolong thus its shelf life.
Apply daily in the morning!
PS: Do you like my recipe? Did you already try something similar? What is your experience with natural deodorants? Feel free to answer in a comment below, I will be happy to read it!

———————————————————————————————————————————
References
[1] Huang, Y, Wu, C and Aronstam, RS (2010) Toxicity of Transition Metal Oxide Nanoparticles: Recent Insights from in vitro Studies. Materials 2010, 3, 4842-4859
[2] Hanley, C; Thurber, A; Hanna, C; Punnoose, A; Zhang, J; Wingett, DG (2009). "The Influences of Cell Type and ZnO Nanoparticle Size on Immune Cell Cytotoxicity and Cytokine Induction". Nanoscale Res Lett 4 (12): 1409–20
Didn't find any related posts :(