7 reasons why make your own soap
Why make your own soap? Soap it is not expensive, it is readily available in any grocery store, it cleans, sometimes makes your skin a bit dry, but that is what the creams are for, right?
Here are my top reasons why to make your own soap:
1. You have direct control of the soap ingredients!
Why would that be important?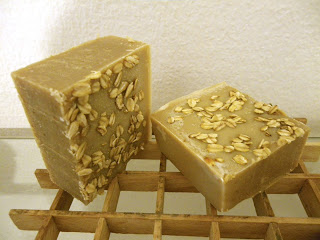 Well, it's like with baking or cooking. Sometimes you just feel like preparing something on your own, just to your taste.
Sometimes you feel that you want to control what you eat. By using raw ingredients you know that the meat is fresh and of good quality, that you use locally produced fresh vegetables and that your meal does not contain loads of potentially dangerous additives in order to keep it fresh for months…
And after all, who would like to eat all the time in the restaurant, being dependent on their menu? Or who would like to eat all the time the low quality pre-processed-in-the-microwave-heated junk food?
Industrially produced soaps are sometimes much like that junk food. Low-price, composed of cheap and non-ecological ingredients, offering nothing more than cleaning.
Why? Well, it is much easier and cheaper for the large scale production, I guess.
2. It is relatively easy!
Remember, it is really not difficult to make soap at home. Not more than making a cake.
There are different types of cakes, though. Some of them are very easy to make, some of them are more complicated.
Once you make your first batch, you are usually enrolled, it goes fast!  You will challenge more complicated techniques before you know it – there is a lot of them. And people are still creating new!  Thank you Internet for being there for us…
3. Your own soap has an additional value – it can do much more than just cleaning!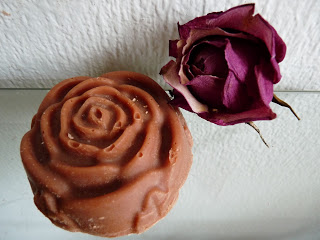 It can be an inspiration, an artwork, your personal masseur, gentle peeling, cleaning friend when you really need it after gardening, or just bubble producing fun-maker, all while stimulating your senses by its form, colors and scent.
4. Your own soap contains naturally a good proportion of glycerin and other goodies !
Industrially produced soap is a pure soap. Now, I am not talking about the liquid soaps composed of surfactants that have nothing to do with the real soap…
OK…now you think – and what is wrong with industrial soap being pure? Isn't purity a sign of quality?
Well, not always… Pure soap is soap that was cleaned of everything that is not soap – including oil unsaponifiables (see below) and all what is being created in the reaction. Then fragrances and colors are added and soap is milled into forms.
The problem is that the most important impurity that is created in the saponification reaction (this is how we call the process of soap creation) is glycerin – an exceptional moisturizer and carrier that is then extracted and sold to pharmaceutical, cosmetic and food industry. What a pity – for us!
When you make your own soap at home (and it is really not more difficult than making a cake), the glycerin stays. And that is sooo soothing for our skin [1].
Not to mention the unsaponifiables  – parts of oils that are not converted into soap – these are for your skin important substances, like vitamins, phytosterols, squalenes…
5. Home made soap is tolerated by the most sensitive skin !
You can read everywhere that home-made soap is very well tolerated even by the most sensitive or problems-prone skin. I myself do not suffer any pathological skin condition, however, some of my friends confirmed to me that their eczema or psoriasis prone skin just loves my home-made soaps.
(So far I did not find scientific study that would support this phenomenon. But lack of evidence does not mean evidence of lack… problem is that all soaps in such studies are the commercial ones)
6. You can create any soap you want – because only you know what you really need and wish!
If you make your own soap, you directly control all the ingredients and you can design it according to your desires. Imagine the horizons!
Start making your own soap and you can make literally any soap you want… imagine soap with jojoba oil. Or pure olive oil soap! Would your skin prefer a sunflower soap? And what if you add lavender flowers? Or honey… and milk! Soap with honey and milk, how cool is that! Or yogurt? Goat milk soap scented with chocolate and vanilla! Miam!
Would you like a soap that gets rid of unwanted smell on your hands?  – add coffee!  Peeling soap for your shower? Grounded oatmeal or dead sea mud are the best! Or wait, you do not want a bar soap? What about transparent bar soap? Or do you prefer liquid soap? I tell you a secret – there is also a cream soap – a soap that looks and feels literally like a cream! Really! Oh, I forgot the whipped soap… it floats on the water, a real delight….
7. It is a perfect, original and highly appreciated gift!
Pack your soap nicely and you have a perfect gift for your family of friends (although I warn you – they get pretty soon accustomed to your soaps and will be expecting you to bring them on each occasion…).
You might have been lucky and know your local soapmaker. You already know how excellent a home-made soap can be. Well, you can see his world from inside!
This is how I feel about making soap at home. It is a never-ending creative adventure.
There are thousands of webpages and blogs dedicated to soapmaking. This is extraordinary. A few years ago, it was impossible to share experience on such a large scale. All we had were books. Now the soapmaking community is so large worldwide, it is astonishing.
BUT BEWARE! Making soap is really addictive!
You will dream about soap, a visit to your local grocery store will suddenly become completely different as you will watch everything through soapmaking glasses!
I myself am addicted… doomed forever! I have soaps everywhere. In a while I won't have place for them. Luckily I have family and a lot of friends I can make gifts to….   I warned you…
Are you hooked?
Do you know any more reasons why to make your own soap? Just write them in the comments, I would love to read them!
Long live your bar of soap!
Evik
———————————————————————————————————–
References:
[1] Fluhr JW, Gloor M, Lehmann L, Lazzerini S, Distante F, Berardesca E. Glycerol accelerates recovery of barrier function in vivo. Acta Derm Venereol. 1999 Nov;79(6):418-21.