Soft coeur – duplicate LUSH massage bar recipe
In this post, I will show you how to make a similar version of the favorite LUSH massage bar.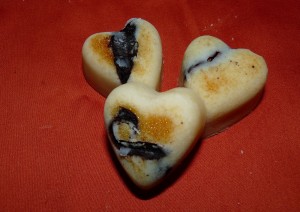 The Lush Soft Coeur is made of cocoa butter base with a chocolate center from honey, glycerine and cocoa powder.
I immediately felt in love with it – the combination of vanilla, strawberry, red orange and chocolate fragrance is just fatal… in a good sense, of course!
How to duplicate the Soft coeur – LUSH massage bar
First thing to do when duplicating a product is to have a look at the original ingredients and their order.
According to EU and USA regulations, ingredients must be listed in a decreasing order according to their proportion in the recipe.
Original ingredients of Soft Coeur:
Cocoa Butter, Shea Butter, Honey, Cocoa Powder, Perfume, Almond Oil, Glycerine, Sweet Wild Orange Oil, Bergamot Oil, *Limonene, *Linalool, Benzyl Benzoate
The most abundant ingredients are cocoa butter and shea butter.
Also, in the recipe, the Perfume is quite important, as it is the part of LUSH products, that is the most difficult to duplicate.
I have the leftover of the original Soft coeur of LUSH at my night table, and so was able to identify the Perfume they use – or at least the good part of it – STRAWBERRY. It is so strong that my bedroom smells like a candy shop 🙂
Next thing that help is to search for LUSH youtube how-to videos (they do post them for almost everything).
The LUSH video I used to "crack" the recipe (watch from 1:45) is below. From the video we can see, that honey, almond oil, glycerin and cocoa powder go into the chocolate part of the soft coeur. This helps to determine the percentage, which I estimated by looking at bowl sizes.
The Soft-coeur – LUSH massage bar recipe

And here is my recipe for 7 small hearts in an ice cube tray:
Base
2.2 oz (63 g) Cocoa butter
0.5 oz (15 g) Shea butter
0.07 oz (2 g) Fragrance oil strawberry
0.04 oz (1.2 g) Essential Oil Blood orange (or any other orange EO)
0.04 oz (1.2 g) Essential Oil Bergamot
0.04 oz (1.2 g) Vanilla oleoresin (20 drops)
Cocoa center
0.14 oz (4 g) honey
0.14 oz (4 g) cocoa powder
0.05 oz (1.5 g), almond oil
0.035 oz (1 g) glycerine
5 drops, 5 drops, Essential oil Blood orange (or any other orange EO)
5 drops, 5 drops, Essential oil Bergamot
I did not add the preservative, because I did not have one. However, I think it is not necessary, as there is no water in the recipe, therefore no bacteria or mold can grow. The oils used have a long shelf life and the small quantity of almond oil won't really affect it.
Instructions:
1) First, mix well all the ingredients from the cocoa center part, spread on a baking paper into a layer thick around 0.5cm, and let harden in the fridge
2) Melt both cocoa and shea butters on a low heat (water bath) and let cool down at the room temperature (note, the butters, although cooled, take very long to get to the solid form, therefore they will be still liquid)
3) Add all fragrances – my vanilla oleoresin did not dissolve in butters, it sank down to the bottom of the forms – this is the red-brownish sugary layer seen on photos.
4) Cut the hardened chocolate center into pieces and put into heart molds
5) Pour over the melted butters.
6) Put in the fridge to harden
7) Unmold, store in a container and use for a sensual massage, or like a body conditioner after bath/shower.
How does my duplicate compare to original
The original is a bit more greasy and gets used faster (I would maybe add more shea butter next time)
The original smells more artificial – this must be their Perfume
The chocolate center in my recipe is as messy as the original – not sure whether this is good or bad as it is difficult to melt on your skin, but again it is exactly as the original. I would improve the recipe a bit from the original, by adding less of the glycerin probably, if any…
Next time, I will make mine bigger – closer to original – it is easier to handle
I definitely prefer my version!
ATTENTION: Do not let unattended – uninformed adults and children could eat it, it really smells wonderful! 🙂 (It most probably won't harm them, but it would be a pity to loose the hearts!)
Didn't find any related posts :(