100% olive oil soap with cocoa and golden mica decoration
I hope you enjoy the summer and that now you have even more time to soap 🙂
I did not forget you, but as usual… no time to write.
However, I do still make experiments and today I share with you the very latest one, where I tried golden mica pattern on my 100% cocoa soap 🙂
Not long time ago I got from one friend in soap swap an all natural cocoa soap with raw cocoa beans, which I really LOVED!
Well… I could not make the very same soap, as I was visiting my parents and had only olive oil to work with, not to mention there was only a bit of the cocoa powder.
But – that was one more reason to exercise my knowledge on how to manage 100% olive oil soap 🙂
Recipe
1000 g Olive oil pomace
128 g NaOH
380 g distilled water – prior to adding NaOH I dissolved in 2 teaspoons of sugar (for nice foam) and 1 TBSP of salt (so that it is not slimmy).
DO NOT try to dissolve sugar and salt AFTER, but BEFORE adding your NaOH! Otherwise you will get a very big lump of sugar and salt and will have to use blender to mix it in, which is really very dangerous…
At trace
I added 34 g of cocoa powder (there is no particular reason for this amount – it was all I had and I would add more…)
and 20 ml EO Lemon balm, mixed with 17g (2 full teaspoons) of cornstarch – to fix the fragrance
Then I poured into molds and let in mold for 12 hours
Notice, how the soap changed its color at the top to much lighter color while curing.
The next day – exactly 12 hours after pouring – it was very interesting to follow the soap "transpiration". Small droplets of water and glycerine appeared on the top, in the very middle of the soap mold, where the gel phase started.
As the gel phase expanded to the sides of the mold, the droplets followed, see images below: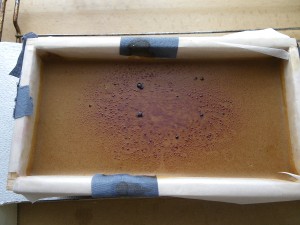 08:25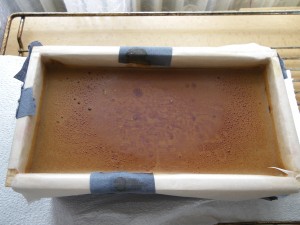 09:12
10:38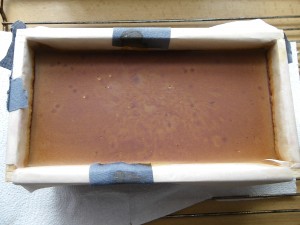 11:12
Upon unmolding, the soap was still rather soft, but I was impatient, as we were about to leave soon… however, when cut, it looked so yummy…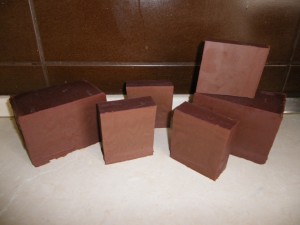 I noticed another very interesting feature of this soap. After a month of curing, I cut it and found the middle to be softer and lighter in comparison to the edges from which the water evaporated. After two weeks, the difference of colors faded (the middle became darker), however not perfectly.
Then, I found this video on how to use gold mica to decorate melt and pour soap. If melt and pour, why not cold process? 🙂
Indeed when I tried it today, I used my fingers and did not follow the video at all, I am always like that…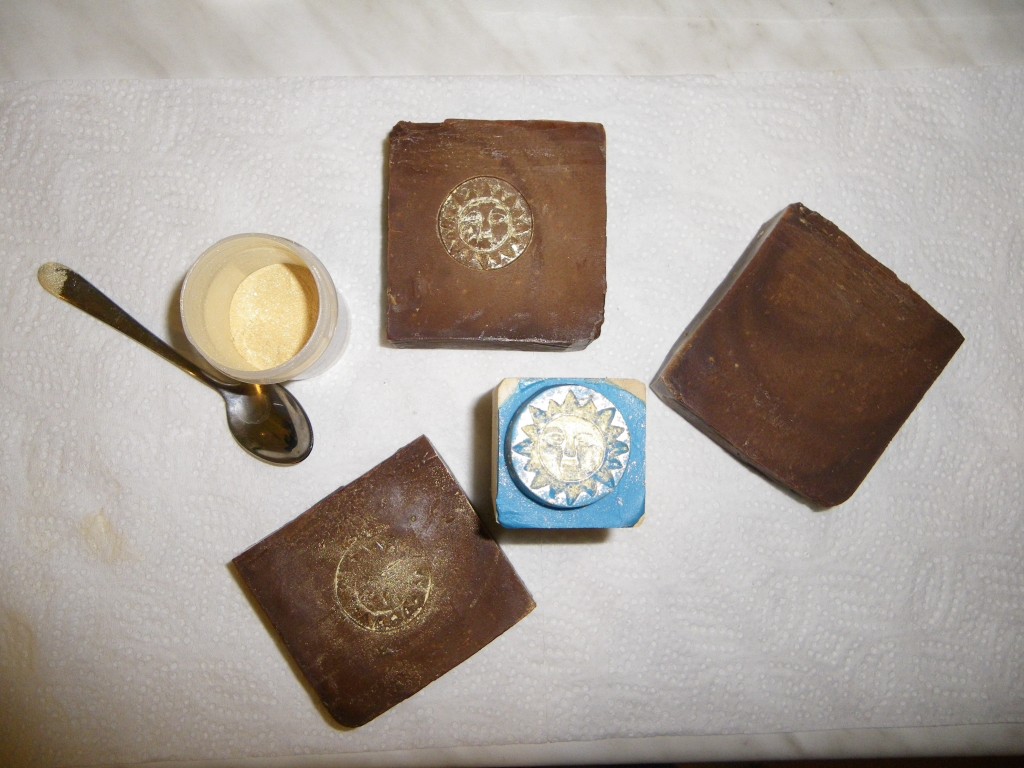 For the mica decoration, I tried to:
First stamp the soap and then powder it with mica (see bottom soap on the image above)
Powder the stamp first and than stamp the soap (see top soap)
The second choice is better as it distributes the mica in a much more uniform pattern.
Soap well and let me know if you try (tried) something similar!
Didn't find any related posts :(