A big test of 100% one oil soaps – after 15 months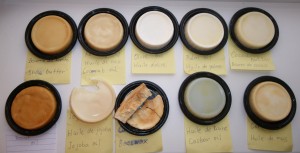 Yes, finally 🙂 Those of you who have been waiting for the results of the big test of 100% one oil soaps… here it is!
Actually, it has been more than a year since I made the soaps, but I was extremely busy moving to another country, preparing my wedding (soon…) and having holidays 🙂
You might want to read first the previous 2 posts:
A big test of 100% one oil soaps – part I – trace, unmolding soaps, smell, color
A big test of 100% one oil soaps – part II – after 2 weeks – foaming, color, smell
To sum up – I tried to saponify different oils and found both expected and unexpected differences in trace, smell, color and foaming capabilities – these results can be found in the two posts above.
The question was, how do the soaps look like after 1 year. I was asking the following questions:
Which soaps went rancid?
Did some of them loose the excess alkalinity?
Did they foam better?
Are there any other changes concerning smell, color, hardness…
Results of one oil soap test after 15 months
| | | | | | | |
| --- | --- | --- | --- | --- | --- | --- |
| Type | g | color | smell & other | photo after 4 weeks | photo after 15 months | foaming(see below for videos) |
| Coconut oil soap | 49 | dark yellow, with soda ash parts whiteish | smells a bit of old oil | | | Gives fast big bubbles, just as before. |
| Palm oil soap | 56 | light yellow, uneven, darker on one side | does not smell bad | | | Did not augment its foaming ability, still very rich cream lather that takes a while to make |
| Olive oil soap | 52 | cream color, with soda ash almost all over, yellow on one side | does not smell bad | | | In comparison to after 2 weeks, it actually does foam, although still gets slimy. |
| Shea butter soap | 52 | yellow-orange, uniform, no dreaded orange spots | still smells as shea butter, although it fainted | | | the lather is very rich and de luxe, a bit better then after 2 weeks |
| Castor oil soap | 46 | translucent with dreaded orange spots | smells a bit like an old oil, is sticky to touch! | | | Absolutely no change, no lather at all… |
| Cocoa butter soap | 51 | cream yellow, some places more orange, however lost its original color! | does not smell bad, very fainted cocoa butter smell | | | After 2 weeks, this soap was very difficult to make foam and then I was not sure if it is just slimy or it gave a very thick lather with little bubbles. Now, the soap was still difficult to make foam, however, the lather was there! |
| Corn oil soap | 50 | yellow by large dreaded orange spots, some places still lighter | does smell a bit of old oil | | | Kept its mild foaming ability! |
| Peanut oil soap | 41 | the oxidation transformed its cream color to orange/brownish | does smell a bit of old oil, is sticky, similar to castor oil oap | | | This soap has changed its lather! Before the lather was creamy, much like that of shea butter soap. Now, it was less rich with big bubbles, like that of coconut oil soap. |
| Beeswax soap | 51 | is light orange, uneven color | smells like soap… | | | No change at all.. no lather |
| Jojoba oil soap | 23 | few days after making this soap, it I got rid of the liquid part, so it could harden. It was very mushy and hardened considerably with time, got cream white and then darkened on one side | smells alkaline | | | To my surprise, I was able to make some bubbles with this soap after 15 months, although it was not easy. |
Summary of changes
Color and rancidity
In general, majority soaps have changed their color, most of them darkened considerably, some got lighter.
Darkened: coconut, shea butter, corn oil, peanut oil soap
Got lighter: jojoba oil, beeswax and cocoa butter soap
Kept their color: palm oil soap and olive oil soap
Castor oil soap was again a pretty special case. It got sticky and developed dreaded orange spots – sign of rancidity.
In peanut oil soap and corn oil soap, there is no doubt their color change was due to rancidity, both smell a bit like old oil. Interestingly, coconut oil soap also got rancid – changing color and smelling of old oil.
Smell
Apart of smell of rancidity (IMPORTANT – the smell of rancidity was in neither case very present, e.g. it would not keep me from using soaps) in four soaps (castor, peanut, corn and coconut), the soaps did not have special fragrance (nor the typical soap "odor").
The only exception were shea and cocoa butter soaps, which still kept their original scent, although very fainted.
Lather
Soaps that kept their lathering characteristics (good or bad): coconut oil soap, palm oil soap, shea butter soap, castor oil soap, beeswax soap
Soaps that decreased their lather: peanut oil soap
Soaps that increased their lather: jojoba oil soap, olive oil soap, cocoa butter soap
Here are the videos of foaming test after 15 months

Didn't find any related posts :(