About me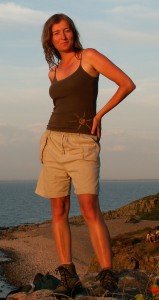 Who am I?
My name is Evik – 31 years – currently in french part of Switzerland – living with my fiancé – having a   child for two weekends a month (my fiancés son) – vegetarian – loving mountains and nature…
How did I come to making my own cosmetics and soap?
I started to make soap at home 7 years ago, after incidentally discovering The Natural Soap Book: Making Herbal and Vegetable-Based Soaps by Susan Miller Cavitch in my favorite bookshop.
It was shortly after I became vegetarian (please, do eat meat if you like it, I am not persuading anyone!) and started to care more about my health and what cosmetic products do I use. This book became a bible for me and since, I could often be observed mixing suspicious broth with wooden spatula, while wearing swimming glasses and waiting sooooooooooo looooooong to get trace…
…maybe because of that, or maybe for other reasons I do not remember really, I stopped soaping for a while.
Luckily, in the spring 2010 I got soapy-enlightened again and discovered how much the soapmaking world has changed in between! The amount of information I found was just astohishing! Blogs, forums and those dozens of nice books with photographs on amazon… but mainly … the discovery of the blender in soapmaking 🙂
I dived in and somehow naturally started to be interested also in how to make my own cosmetics.
What is this blog about
Since, I have been reading, searching, making, rebatching, discarding, questioning, again reading, writing and de novo experimenting, inventing, discovering, enjoying, giving, using…
….but mainly always trying to find answers to my WHY / WHAT / WHICH and HOW questions I ask each time I learn and try something new, like for example
Why this ingredient is important in the recipe? What happens if we do not add it? How can we substitute it and can we?
How can I make at home my own meltable M&P soap base, and how to make one without using propylene glycol?
How can we substitute the famous borax&beeswax combination for other, more natural emulsifier?
What can a really natural emulsifier do and why is beeswax not considered an emulsifier, although it does emulsify to some extent?
Which of the unsaponifiables in oils or other ingredients survive the alkali conditions of soap and how do they change if not?
Is there a really, but really working homemade deodorant or shampoo? (for the deodorant – yes, there is! and for the shampoo… hum…)
And which scientific study really supports that positive/negative claim about that ingredient?
I will be always asking questions and search for the answers and will share with you all my recent and future experience, everything I know or will discover in my soapmaking and cosmetics making adventures.
Basic principles, tutorials, recipes, videos, photos, documentation, results of my kitchen experiments…
Publicity on my blog
As all this experimenting takes quite a lot of my time and resources (I do not sell my products), and putting all of it online regularly even more, I will occasionally put here and there some publicity (e.g. I am an Amazon affiliate) – however, only if it is relevant to the post content! This will – i hope so – in the future help me to generate a small income that hopefully at least covers my expenses.
And – please – do not buy anything if you are not persuaded you need it!  I have plenty of ingredients I bought very excited and did not use them yet… I hope I will do … The best is to start with small quantities. And if you like it – and only if – buy more!
Please, share your opinion – I love to communicate!
I am happy to share my knowledge in an interactive way! If you have any questions, please, do not hesitate to contact me. You are of course more than welcome to leave comments below my posts.
If you are critical, please, be constructive… it takes long time to write a post and I really try to be objective…
Do not miss a post!
If you would like to stay informed on what do I post, just submit your email to the form below.
Long live your bar of soap!
Evik
Didn't find any related posts :(