Balm for atopic dermatitis for children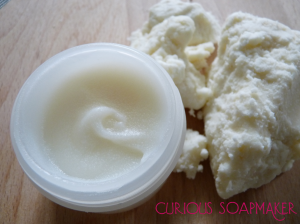 Time to time, I get asked to create some specific formula. This time, I was approached by a mother whose two children (one of them a few month old baby) suffer from atopic dermatitis. She wondered if I could make a cream for them, that would be non-irritating for their sensitive skin.
I quickly discarded "cream" as formula type, since creams need emulsifiers and preservatives, both of which might cause allergic reactions.
The right choice would be to create a balm – a formulation without water, based on oils and butters only.
I knew I would definitely use shea butter since it contains loads of phytosterols which have skin repairing properties.
Once again, I searched my favourite web with cosmetics recipes and found this recipe for balm for young children with Shea and mango butter and marigold oil infusion. That was an opportunity for me to try my long-being-on-the-shelf mango butter for the first time, too! It is as good as Shea, but has a different texture.
As usual, I also searched some scientific publications and found out that borage oil is supposed to have a good effect on atopic eczema at least in certain groups of patients (http://www.ncbi.nlm.nih.gov/pubmed/20579590). Another study shows that undershirts coated with borage oil on children with atopic dermatitis showed improvements in their erythema and itch (http://www.ncbi.nlm.nih.gov/pubmed/18078406)… well, that made a candidate for an oil to include to my balm for atopic dermatitis!
I modified the original AZ recipe and used vanilla pod infusion in fractionated coconut oil instead of aromatic vanilla extract, which usually contains alcohol that can be too drying for sensitive skin. The infusion brings natural fragrance and thanks to fractionated coconut oil [read more about different coconut oils here] reduces the greasiness of the balm for atopic dermatitis.
Marigold infusion calms the skin and heals small wounds.
The recipe I finally composed for balm for atopic dermatitis is here:
24% BIO unrefined shea butter
24% mango butter
20% marigold infusion in sunflower oil (or other oil)
24% borage oil
8% vanilla pod infusion in fractionated coconut oil (or other oil)
Instructions
1. Mix all ingredients and melt on low heat  (40°C).
2. Once everything melted, stir and put in the fridge to let cool and harden a bit (10-20 min), then whip well.
3. Scoop into containers and let cool in the fridge (to prevent shea butter blooming).
Use for whole body and let me know if it works! (I got very positive review from the above-mentioned mother!)
Didn't find any related posts :(