Balsam amber design soap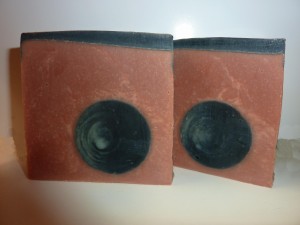 Last Sunday I had a soapmaking day! 🙂
I wanted to make some design soap, so I thought of :
– the scent
– colours
– what design should I make!
I was thinking of the Balsam Amber Fragrance oil (from gracefruit.co.uk, right now, as I just found out, they have it at 70% discount! – they did not pay me for this, it is really just by chance…), which I like much, but so far used it only in cosmetics.
With this warm, powdery scent, I figured that black and red are the best colours.
Well, for the design – you can see on the photo 🙂
I had to make two soap batches to create the soap – black batch (1/4 of the recipe) and red batch (3/4 of the recipe).
1st day
Black-white batch recipe

175g (35% oils) Olive oil
225g (45% oils) Palm oil
75g (15% oils) Cocoa butter
25g (5% oils) Castor oil
190g distilled water
65g NaOH
2 teaspoons of charcoal powder
7 ml of Balsam Amber Fragrance oil (from gracefruit.co.uk)
Instructions
1. First, I found a paper tube which I cut in half so that it fits to the mold. There are two on photos, but I finally used only one.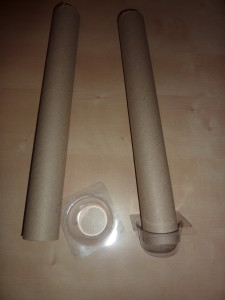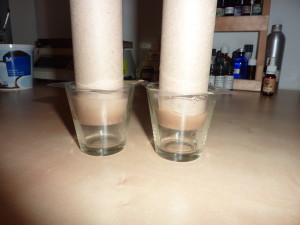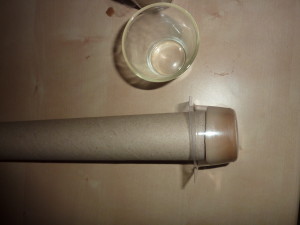 I fixed the paper tube to the plastic cup I found and fit well, using beeswax – this is very important, otherwise the soap will overflow the plastic cup (the pressure of the soap is too strong).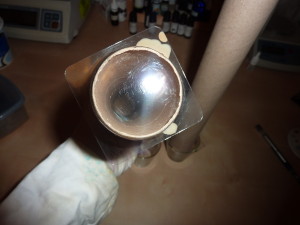 I mixed the fragrance with the oils prior to blending with the lye solution. Then poured in lye and blended shortly until trace. I left 1/3 of soap uncolored, the remaining 2/3 I mixed with charcoal.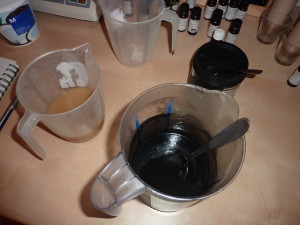 Then I tried the "in the pot" swirl – I gently poured white part into the black part and gave it a light stir.
I poured the soap it in the tube: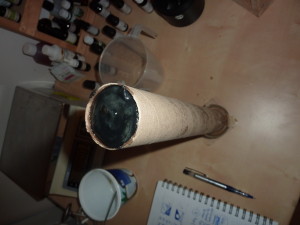 … there was some soap left so I poured it in the mold.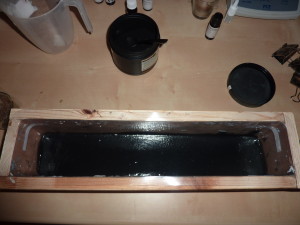 2nd day I peeled off the paper…
… it was not easy, so I spent an hour trying to get rid off the paper, scraping it away… Next time I shouldn't be lazy and line the tube with some kind of baking paper 🙂
I noticed the soda ash on some parts of the black layer in the mold and I didn't give it a second thought – this showed later to be a problem, as it caused later separation of red and black layer… So next time, I will

1. either get rid of the soda ash (scraping)
or
2. make sure it does not occur (spritzing with alcohol)
I made second batch

Red batch

525g (35% oils) Olive oil
675g (45% oils) Palm oil
225g (15% oils) Cocoa butter
75g (5% oils) Castor oil
570g distilled water
196g NaOH
14ml Balsam Amber fragrance
20g red clay
Again, I mixed the fragrance with oils, together with red clay. I gave it a good stir with blender.
Then I added lye and mixed until semi-light trace.
Here is the video of how I made the soap

After 24 hours I unmolded soap. It was not easy because the mold was plastic (the wooden frame was made to fit it!). You can see the separation of the black layer where soda ash occured:
I pushed it back…
…. and cut!
It took me finally three days to make soap, but it could be faster if I started on SUnday morning, I could make the red batch in the afternoon and cut the next day. I believe I wouldn't have problem with soda ash either…
So, do you like it? I do 🙂 And what I like the most is that the fragrance survived the saponification process and it smells wonderful!
Didn't find any related posts :(