Luxury chocolate whipped body butter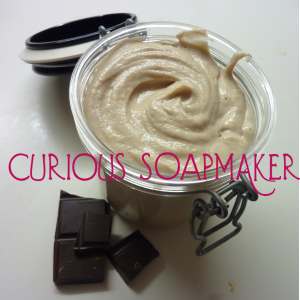 Anna on her blog published a recipe for Chocolate mousse body butter.It's been some time I made my last whipped butter and this recipe just made me want to make one again!
The original recipe is pure oils and butters, very natural.  Having for some time at my possesion a very interesting ingredient called Isopropyl myristate (IPM).
This ingredient is an ester of isopropyl alcohol and myristic acid (fatty acid from coconut oil). It feels like dry oil, is very readily absorbed into skin and therefore used in cosmetics to:
impart less greasy feeling
deliver ingredients into skin
However, it is comedogenic so should not be used for acne-prone skin.
For IPM to work in a 100% oil product, we need a larger quantity – the recipes I read say up to 33%. Therefore I had to change proportions of ingredients and substitute IPM for part of butters. This meant I needed to add beeswax to make it harder again.
I also substituted dark chocolate I had at hand for cocoa powder and did not add essential oils, just because I used grapeseed oil infused with vanilla, more cocoa butter and chocolate, which all smell great already.
… it was worthy, it really does smell good and soaks into my skin very quickly!
Recipe
Here is the original and my adjusted recipe (for comparison) – the original recipe is in cups, so I estimated percentages.
Ingredient
% 
(100% natural
original recipe)
% 
(my adjusted recipe
     easy to absorb)
Coconut oil
25%
14%
Cocoa butter
25%
25%
Shea butter
25%
14%
Jojoba oil
12.5%
6.5%
Grapeseed oil vanilla infusion
6.5%
Macadamia oil
12.5%
Isopropyl myristate
26%
Beeswax
4.5%
Dark chocolate
2.5%
Cocoa powder
4 TBSP (for 500g)
Vitamin E
40 drops (for 500g)
1%
EO orange or vanilla
40 drops (for 500g)
Instructions
1. Put all ingredients in a pot and heat gently until all melted, but pay attention not to overheat (keep it at 75°C), otherwise the butters can get grainy
2. After melting, I put everything into the fridge overnight. Left overnight (it was late already), then in the morning let it at room temperature.
3. In the evening I put it in the electric mixer and whipped for 5 minutes at maximal speed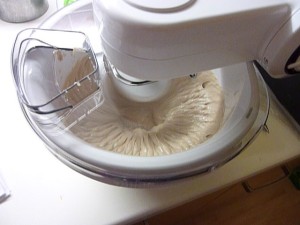 This butter  is really yummy, soft, whipped and can be easily absorbed!
Do you have any favorite body butter recipes?
PS: I bought my isopropyl myristate at saveoncitric.com
Didn't find any related posts :(