Odors neutralizing emollient coffee soap in juice box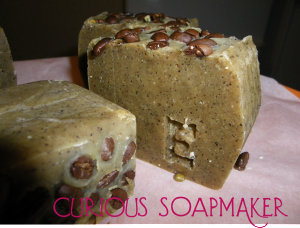 Soap type: bar soap
Method: CPOP
Another soap I made some time ago. It was also my first time I tried to use juice soap box for mold, as well as coffee grounds.
I wanted to make odors neutralizing soap – especially good to be used in kitchen or after cleaning or gardening.
I was inspired by a recipe from The Soapmaker's Companion
named Dirt Buster.
It contains castor oil, wheat germ oil, jojoba oil and shea butter to nourish work-worn hands.
First I prepared juice box. It is really necessary to do it before starting to make soap, just to be sure it is ready: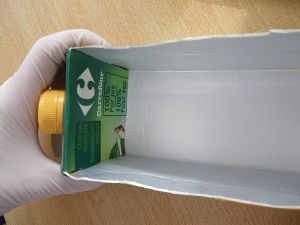 Then I estimated the volume of the recipe based on the volume of the box. 1 liter of  juice means 1kg of water, which means around 1kg of soap.
Recipe
228g distilled water
80g NaOH
188g coconut oil
164g palm oil
90g wheat germ oil
59g jojoba oil
47g shea butter
47g of dried coffee grounds (wet are much heavier)
Instructions
1. I prepared my lye solution (dissolve NaOH in water).
2. At that time I didn't know if it is better to add coffee grounds at trace or directly in the lye solution, so I added around 1/3 of it into the lye solution and the rest at trace. It might have helped release a bit of brown color to soap.
3. I melted fats with oils on very low heat (I was lazy, normally I would melt fats and add them to the oils)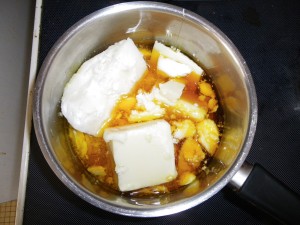 4. I poured lye to oils and blended to thicker trace. Then added coffee grounds.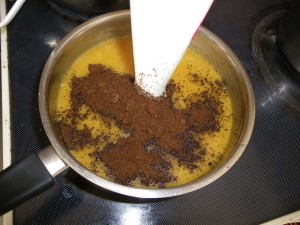 5.
Finally I poured the soap in the mold – unfortunately, the juice box I used was folded, prepared to be thrown out, so the sides were damaged a bit and did not keep the form. I used plywood to reinforce the sides.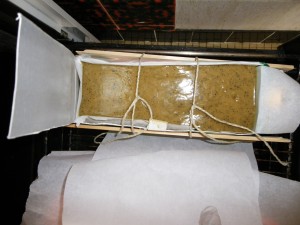 6. Finally I sprinkled the top with whole coffee beans to make it nice

7. Finally, I put the soap in the pre-heated oven (50°C) for two hours to ensure the gel phase. This is called cold process oven process (CPOP) method.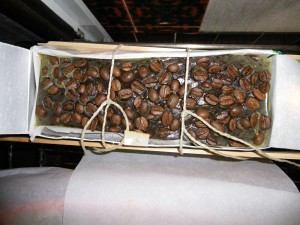 I cut the soap after 24 hours.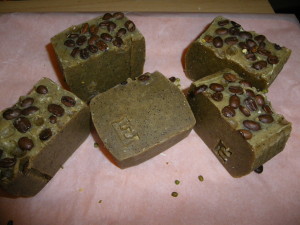 Thanks to coffee grounds the soap is quite scratchy. I was disappointed first, but then I got used to it for washing my hands.
And later, I got very positive reviews on it even for using in the shower 🙂
After all – I consider it definitely one of the best soaps I made…. which makes me think I should make one again soon.
When I published it on my slovak blog, I got some questions, so I already put here some tips:
– If you just make strong coffee and use it as part of water for dissolving lye, the soap will be still deodorizing and coffee grounds are not needed. This way the soap won't be scratchy.
– You can use fresh ground coffee instead of coffee grounds 🙂
Didn't find any related posts :(