Olive oil soap with grapefruit or how to make soap roses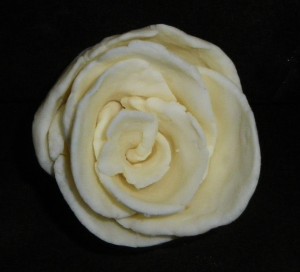 Few weeks ago, when I posted my thoughts about the 100% olive oil soap, suddenly I got an urge to make one 🙂
I added salt to make it harder (in other words – less slimy when used) and 10% of castor oil for bubbles (ok, this makes it 90% olive oil soap…)
And for the first time, I tried to make soap rose!

Here is how I did it…
Recipe
900g olive oil
100g castor oil
127g NaOH
380g distilled water
1.5 Teaspoon kitchen salt
10ml grapefruit essential oil (next time I will double the quantity…)
2 full teaspoons of cornstarch (to fix the scent)
Instructions
1.  I dissolved salt in my lye solution
2.  I blended the soap until trace, which was fast, because of the castor oil
3.  Then I added the EO mixed with cornstarch
4.  Poured into mold and put in the oven for 2 hours (50°C ~ 122°F)
How to make soap rose
When the soap is firm enough to be cut,  but not too much to be dry on the top, cut a piece of size of one soap.  Work it as a dough and divide into 7 balls of similar size.  Roll the balls into round slices  and make soap rose according to these instructions (it is in French, but photos are important…)
http://soapsession.com/blog/2009/10/01/tuto-roses/
I wanted to add a link to a very good video I have seen on this some time ago, but I just cannot find it anymore…
If you have some, please, share!
Soap well,
Evik
Didn't find any related posts :(