Simple leave-in conditioner recipe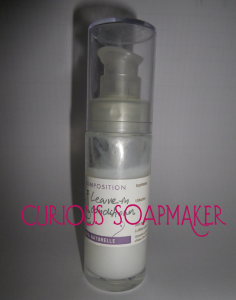 I always thought that leave-in conditioner was nothing to be used on my thin and easy to grease hair. Then I was asked by a friend to make one for her curly hair and my opinion changed…..
As usual, when I try to make some very new product, I first went searching to Susan's blog for advice.
There I found some pretty interesting recipes, however, I did not have all the ingredients… again as usual 🙂 … so I worked with what I had and it came out pretty nice!
This conditioner became one of my favorite home-made products, as it is so easy to make and has such a professional effect! I use it when I need to detangle my hair and it works miracles.
Very little theory
When you wish something as fancy as a leave-in conditioner, forget the "all natural". You need something that helps detangle and does not make your hair heavy. Therefore as little oil as possible and the right conditioner emulsifier (e.g. BTMS). Also, if you have hair in which you don't want to keep water, like frizzy hair or my thin hair, it is good to add silicones.
According to Susan, this would be the basic leave-in conditioner recipe:
1 to 2% Incroquat BTMS
0.5% preservative
up to 1% fragrance oil
water to 100%
Indeed, including goodies like panthenol, proteins or substituting plant waters for part of the water would personalize your conditioner.
My detangling leave-in conditioner for thin hair
I have dimethicone (silicone) at home, panthenol and two conditioner emulsifiers (BTMS and Conditioner emulsifier). I choose rose and lavender water for part of the water phase. This way I did not have to add any special fragrance, as this combination smells wonderful 🙂
A. 58.5% water
A. 15%  rose water
A. 16% lavender water
B.    2% BTMS
B.    2% Conditioner emulsifier (Stearamidopropyl dimethylamine)
C.    2% Panthenol (to nourish your hair)
C.    4% Dimethicone
C.    0.5% GF ecosafe (preservative)
Instructions
Melt phase B to 70°C and at the same time heat also phase A to the same temperature, in a different container
Once both phases at 70°C, pour phase B into A while continuously stirring
After an emulsion creates, stir until it cools down to cca 40°C
Then add ingredients from phase C one after another, every time stir in well
Pour into containers and label
Usage
Apply to dry tangled hair in small quantities. Do not wash.
Additional sources
If you wish to go even more simple, check this post:
Didn't find any related posts :(