Versatile blogger award and my nominations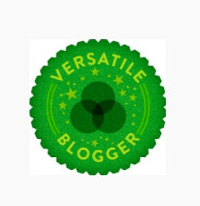 I got very good news few days ago 🙂 I was pleased and honored to find out that Silvia from Soapjam , nominated my blog for versatile blogger award!
I didn't know what it is, but now I do and here I share with you the rules of the nominations and who do I nominate 🙂
The rules (copy from Vklersatile blog award website):
If you are nominated, you've been awarded the Versatile Blogger award.
Thank the person who gave you this award. That's common courtesy.
 Include a link to their blog. That's also common courtesy — if you can figure out how to do it.
Next, select 15 blogs/bloggers that you've recently discovered or follow regularly. ( I would add, pick blogs or bloggers that are excellent!)
 Nominate those 15 bloggers for the Versatile Blogger Award — you might include a link to this site.
 Finally, tell the person who nominated you 7 things about yourself.
So first, I would really like to thank Silvia, as this makes me feel that writing this blog is worth it. It also helped me to discover her blog, which is excellent, because she really has very good ideas (and her soap packaging tutorials are very inspiring – something I am really not good at :))
Now my 15 nominees (not in particular order)
7 things about myself (apart that I am soapmaking and cosmetics making addict :)), I:
work in science
am vegetarian
love animals
am married
love dancing
sing in an irish group and a jazz group
play the piano, violin and bodhran (irish drum)
Which are your favourite blogs? Let me know in the comments below!
Didn't find any related posts :(