Why I do not use waterproof mascara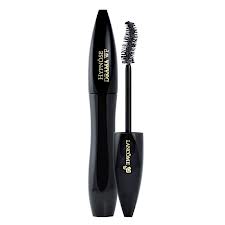 If I was about to choose only one "make-up"  to use until the end of my days, I would probably hesitate between foundation cream and mascara. The final winner, however, would be mascara – I can still hope that my skin will be one day without imperfections, while my lashes won't probably grow longer and darker…
Until I started to make my own cosmetics, I tried almost all types of mascaras. When the waterproof came on the market, how could I resist? It is so practical…

… until I realized that a waterproof mascara is actually totally inconvenient … why?

Well, my eyes are quite sensitive, so I have to remove mascara in the evening, otherwise I wake up with pretty original red patterns around my eyes…
Probably each of you have an experience with removing a waterproof mascara…  After a horrible fight, you are left with red, a bit grey shaded eyes. Not your experience? You have a perfect expensive state-of-the-art make-up remover? Just have a look at the ingredient list….
Anyhow, I never managed to remove my mascara completely.  The 10 minutes spent at the mirror and wrinkles I was making by furious rubbing of my eyes in the attempt to remove that super new product by… (add your brand), with a very uncertain result, is really not worth my time and nerves. Not to mention that such an extensive rubbing is damaging your lashes….
Finally, I kind of understood that I really do not need the waterprof mascara, because:


the situations where you are crying in the public, or you cannot hide your eyes from the rain, because broken by the destiny you are cursing … (add as required) … to the heaven, are really, really not frequent!

if you do cry on purpose to make an impression, then you do not need a waterproof mascara – there is nothing more impressive than a well smudged mascara underlining your sorrow! 
If you go swimming, usually you do not put a make-up, and if you do, then you probably carry it with you (just in case…) and so you can adjust everything just after. If you do not carry, do so – mascara is small and weighs nothing.
Moreover, wast majority of the mascaras although waterproof is not smudge proof and if you rub your eyes, you make yourself a pair of nice grey circles almost impossible to get rid of, except with a special make-up removal that you do not carry …
I conclude that I found the non-waterproof homemade mascara to be perfect for me, because:
it is really easily removable just by paper towel and water, any place, any time
I save money I would use to buy expensive eye make-up removal products

I save money for the mascara itself

my mascara does not conatin any controversial or sensitizing ingredients and I can adjust it every time I make it – if it smudges, it does not make me cry!

And what about yourself? Can you imagine your life without a waterproof mascara?
Take care (of your eyes)!
Evik
Didn't find any related posts :(